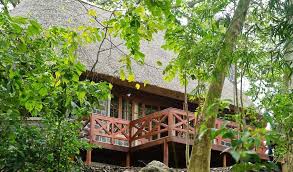 Mikeno Lodge, Virunga National Park, Congo
Mikeno Lodge, which occupies a hilltop in the grounds of Virunga Park's Rumangabo headquarters, is a hub of activity. Tucked away into a forested hillside, the lodge offers beautiful views of the rift valley and Nyiragongo and Mikeno volcanoes.
Each of the lodge's 12 en-suite thatched bungalows, are spacious, including a fireplace and terrace. The lodge's main area has a good restaurant, wireless and a warm fireplace to gather around in the evening. Guests will enjoy drinks and dinner on the large deck with breathtaking views across a forested plain.
The lodge offers a huge range of activities including chimp trekking, nature walks, easy access to the Senkwekwe gorilla orphanage and tours of the park headquarters.